November 08 , 2006
For Immediate Release
From Jack Dunn, BMSA Managing Director
Mountain Chapel of Love about to reopen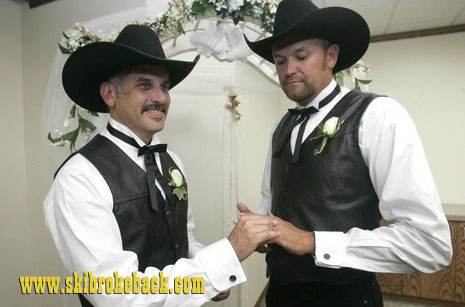 The popular wedding chapel located at the Brokeback Mountain Top lodge is scheduled to reopen on December 23rd 2006. The chapel was closed for renovations for the last eight months.

The new chapel will provide seating for a party of 18 wedding guests as well as skier oriented amenities such as ski racks and glove warmers. The simple but dignified interior is designed in rustic style common in local buildings.
The updated look is not the only change awaiting guests this winter. "We are proud of our decision to offer a hand in Christ to all couples who exchange a hand in marriage. We are all inclusive regardless of the couples' orientation," says Jeremy Martin a minister of Church of Holy Synod.

The reopening of the chapel was welcome by local businesses. It is expected to generate considerable interest in Brokeback Mountain Ski Area as a premier North American destination resort.

Mountain Stats Directions Employment Opportunities Media Relations