January 6, 2009
For Immediate Release
From Jack Dunn, BMSA Managing Director
Brokeback Mountain Ski Area (BMSA) ski patrolman directed skiers in an unusual chairlift rescue at Vail ski resort today.
Oral Lewis, a BMSA patrolman on exchange with Vail Ski Resort witnessed a pantless man hanging upside down from a chairlift. Patrolman Lewis knew he had to act fast to save the skier from embarrassment and frostbite of the worst kind.
"I had to improvise to protect the man from humiliation and masculine injury," says Oral Lewis. In minutes, Oral assembled a group of volunteer skiers who assisted in lowering the chairlift rider.
Oral Lewis then applied a warm compress to the severely frostbitten member and spared the skier from further indignity. This heroic act of the BMSA patrolman did not go unnoticed by skiers and riders in the nearby Bear Bottom lift line who cheered loudly upon completion of the rescue.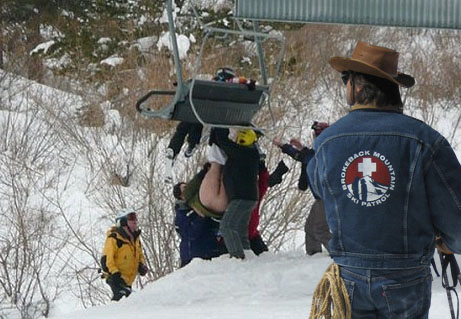 Mountain Stats Directions Employment Opportunities Media Relations